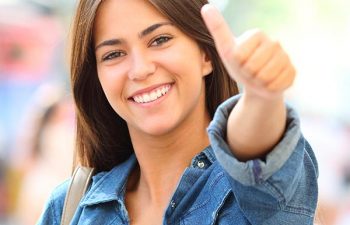 Adolescence is a time of physical growth as well as growth in responsibility and independence. Many parents find that they have less direct influence over their child as they become a teenager. Along with many other daily tasks, your teen is likely taking charge of their own oral health and dental care routine. Unfortunately, these years of development can present some extra challenges for the average teenager.
While you may be "choosing your battles" as a parent, it is important that you stay aware of the possible risks to your teen's dental health. Putting the following guidelines in place can make a drastic difference towards a healthy adolescent smile:
#1 Keep Scheduling Appointments and Buying Supplies.
Although your teenager may even be driving now, it is probably not their priority to schedule their own dental cleanings or go to the store to purchase a new toothbrush when the old wears out. Therefore, as you allow your teen to gain independence, continue to make sure they have the tools they need for a healthy mouth – which includes routine visits to the dentist as well as the appropriate stockpile of oral hygiene products at home.
#2 Limit Sodas and Sports Drinks In Your Fridge
Your teen will have plenty of time to choose their own beverage when they are away from your house. However, you can still control what they bathe their teeth in when they are at home. Due to their high sugar and acid content, sports drinks and sodas are one of the fastest ways to destroy your child's teeth, especially if they sip on them throughout the day. Do your best to reduce these drinks and replace them with healthier options such as water.
#3 Consider an Athletic Mouthguard
Did you know that more than 200,000 sports-related mouth and jaw injuries occur each year? If you have a teen in sports, one of the best ways to protect their smile is with an athletic mouthguard. Research shows that custom mouthguards from your dentist not only have the best fit and efficacy, but they may even help prevent youth concussions.
#4 Keep an Eye on Dental Habits
You may be trying to avoid the nagging of reminding your teen to brush and floss every day. However, don't ignore their dental care habits altogether. Teenagers are especially vulnerable to gum disease due to surging hormones. Lackadaisical brushing and flossing habits can lead to cavities, yellow teeth, bad breath and periodontal disease if not monitored. Educate your teen on the risks of getting lazy with oral hygiene.
At the Pediatric Dental Team, we proudly offer dental care for all ages, including adolescents. We understand the unique challenges that teens face with their oral health during these turbulent years, and our dentists are ready to help. Call our Philadelphia office today to schedule your teen's dental appointment.
Posted on behalf of Pediatric Dental Team
2010 South Juniper Street
Philadelphia, PA 19148
Phone: 215-334-3490
Mon: 8:00AM – 4:30PM
Tues: 8:00AM – 4:30PM
Wed: 8:00AM – 4:30PM
Thu: 8:00AM – 4:30PM
Fri: 8:00AM – 1:00PM