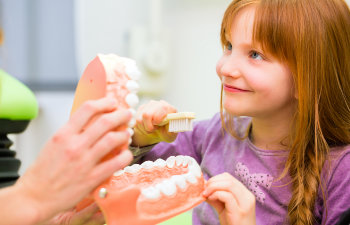 We spend a lot of time telling our kids to brush their teeth, yet many of us forget to explain the importance of also brushing their tongue. While cleaning the teeth and gums are the most important tasks in dental hygiene, it can be a big mistake if you neglect to clean your tongue in the process. Tongue brushing is beneficial for both kids and adults because all tongues make the perfect home for oral bacteria to linger, feed and grow.
Bacteria Loves a Neglected Tongue
Without brushing all surfaces of your tongue each day, you are letting a significant amount of harmful bacteria remain in your mouth. In fact, statistics report that there are as much bacteria on your tongue than there are people on the planet! Bacteria is the leading cause of oral health problems. Not only does excessive oral bacteria trigger bad breath, but it also cause gum disease and tooth decay.
Why does bacteria prefer your tongue over other parts of your mouth? Your tongue is moist, dark and filled with grooves, or tiny nooks and crevices for bacteria to hide. Plus, your tongue comes in contact with everything you eat and drink, which means there are plenty of sugars for bacteria to feed on. Unfortunately, foul-smelling Sulphur compounds are emitted when bacteria feed on sugars and acids in your mouth. If your child has persistent bad breath, tongue brushing may be an easy fix.
Don't Let a Dirty Tongue Steal Your Teeth Brushing Gains
Finally, neglecting to brush your tongue can sabotage your entire teeth cleaning efforts, as the bacteria and debris from an unclean tongue will immediately transfer back to your recently polished teeth. At The Pediatric Dental Team, we teach kids the importance of proper oral hygiene, which including brushing and flossing the teeth as well as brushing all surfaces of the tongue. Some children may even find the job more motivating when they have a special "tongue-cleaning" tool, called a tongue scraper. We are here to partner with parents to promote a healthy growing smiles.
Posted on behalf of Pediatric Dental Team
2010 South Juniper Street
Philadelphia, PA 19148
Phone: 215-334-3490
Mon: 8:00AM – 4:30PM
Tues: 8:00AM – 4:30PM
Wed: 8:00AM – 4:30PM
Thu: 8:00AM – 4:30PM
Fri: 8:00AM – 1:00PM