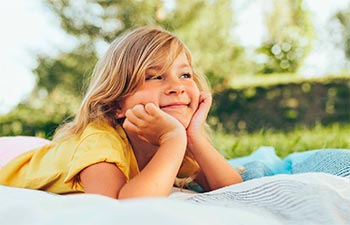 If your child is in elementary school, you're probably wondering if you should include orthodontic treatment in your family budget. Orthodontics can include a wide range of treatments that are designed to improve your child's smile both aesthetically and functionally. Orthodontics may involve wearing braces or another type of oral appliance that moves the teeth into better position and aligns the bite.
While a pediatric dentist is qualified to detect whether or not your child needs orthodontics during a routine dental visit, you can also identify some warning signs at home. After all, early (or interceptive) orthodontics can be a powerful tool in preventing future complications such as speech challenges, jaw issues and aesthetic threats.
At The Pediatric Dental Team, we offer preventative and restorative dental care as well as complete orthodontics. We are known for providing a seamless partnership between dentist and orthodontist when it comes to improving your child's smile.
It may be time to schedule an orthodontic consultation depending on how you answer the following questions about your child:
Has your child had an early or late loss of baby teeth?
When teeth are lost outside of the normal time frame, it can cause misalignment in the adjacent teeth. For example, when a primary tooth goes missing before the permanent tooth is ready to erupt, it can cause the surrounding teeth to migrate towards the open gap. This can result in misalignment and the need for orthodontic intervention.
Do your child's jaws match up?
Jaw misalignment is a primary indicator for braces. This refers to upper and lower teeth that don't fit together properly. Your child may present with an underbite, overbite or crossbite based on how the front teeth appear when they bite down. Bite misalignment may also cause your child to bite his tongue or cheek on a regular basis.
Does your child have crowded teeth?
Crowded or overlapping teeth can be difficult to keep clean, but it can also create chewing discomfort, speech impediments, mouth breathing and other consequences. Crowded permanent teeth need to be addressed by an orthodontist sooner rather than later.
Is your child's thumb-sucking habit lingering too long?
If your child is still sucking his or her thumb past the age of 4 or while adult teeth are trying to emerge, orthodontic treatment may be necessary. Protruding front teeth or crowded bottom teeth can be an obvious sign that thumb-sucking is occurring.
Does your child primarily breathe through his or her mouth?
While it may seem far-fetched, the way your child breathes can impact the position of their teeth. Mouth breathing doesn't allow the tongue to rest on the roof of the mouth. In result, the jaws can narrow over time and limit room for permanent teeth to emerge in their ideal position.
Schedule Your Orthodontic Consult
Still questioning whether your child needs braces? Let our experts help. The Pediatric Dental Team is your source for full-service dental care and orthodontics under one roof. Call our Philadelphia office today to schedule your consult.
Posted on behalf of Pediatric Dental Team
2010 South Juniper Street
Philadelphia, PA 19148
Phone: 215-334-3490
Mon: 8:00AM – 4:30PM
Tues: 8:00AM – 4:30PM
Wed: 8:00AM – 4:30PM
Thu: 8:00AM – 4:30PM
Fri: 8:00AM – 1:00PM