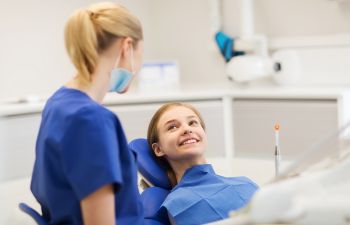 If you've ever taken your child to a routine dental visit, you know that it involves more than just a teeth cleaning. Part of any preventative dental exam (whether child or adult) likely includes a set of dental x-rays. Sending your toddler or young child in for an x-ray without any threat of a broken bone may be unnerving. It is not uncommon for parents to be hesitant or skeptical about the necessity of dental x-rays for their child. However, these digital photographs of your child's mouth are not only completely safe, but they are very beneficial too.
A pediatric dentist relies on x-rays to help diagnose damage or disease and get the most accurate depiction your child's dental health. Most importantly, a dental x-ray can show things that can't be seen with the naked eye, such as early stages of decay between teeth and the way their adult teeth may be coming down. Having dental x-rays performed for your child will help your pediatric dentist treat your child's dental needs earlier and more conservatively. This can help you avoid hefty dental bills and unnecessary discomfort for your child.
The frequency of dental x-rays will be based on the unique oral health history for your child. In general, however, children get x-rays more often than adults due to their rapid growth and development. Bitewings x-rays (upper and lower teeth in one image) are some of the most commonly performed type of pediatric dental x-ray. A more complete view of your child's teeth, sinuses and jaw joints can be captured by a panoramic x-ray, which is taken less often than bite-wings.
If you're worried about the safety of dental x-rays for your child, please be assured that the amount of radiation exposure is extremely minor, or about the same you'd from a short airplane flight. Modern digital radiography has also allowed dentists to further decrease radiation exposure by 80-90% compared to traditional film X-rays!
Is your child due for a dental x-ray? Have more questions about why we routinely take x-rays at The Pediatric Dental Team? Call our Philadelphia office today.
Posted on behalf of Pediatric Dental Team
2010 South Juniper Street
Philadelphia, PA 19148
Phone: 215-334-3490
Mon: 8:00AM – 4:30PM
Tues: 8:00AM – 4:30PM
Wed: 8:00AM – 4:30PM
Thu: 8:00AM – 4:30PM
Fri: 8:00AM – 1:00PM