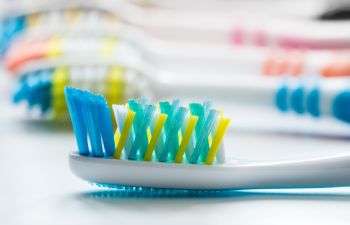 Let's face it; our children can be hard on their toothbrushes. The general rule for changing out a toothbrush is every 3 months – or sooner if the bristles are frayed. It is not uncommon for pediatric patients to need a new toothbrush more frequently than adults.
Kids tend to brush harder or more aggressively with their toothbrush, and they may also catch viruses or colds that warrant a new "germ-free" brush. Just like their shoes, your child's toothbrush can often suffer premature wear. Knowing when to replace their toothbrush, however, is more important than recognizing worn out shoes. A frayed or dirty toothbrush can't do its job of keeping a clean and healthy mouth!
The Importance of a New Toothbrush
It has nothing to do with aesthetics. Your child's oral health is at stake if the toothbrush needs replacement. Frayed or stained bristles on a toothbrush can simply do more harm than good when it comes to caring for your smile.
The bristles on a toothbrush are meant to be straight so that they can scrub the teeth and gums at the most strategic angle. A light circular motion is all that is needed to get a proper cleaning. When bristles are frayed or flat, however, it becomes far less effective and may even cause your child to work harder to get a good clean. Applying more pressure against a frayed toothbrush can cause enamel damage and gum irritation.
Beyond worn down bristles, there's another big reason to replace your child's toothbrush – bacteria! It is easy for bacteria to accumulate within the small gaps of your toothbrush, especially if it is not kept in a dry, sanitary location. When bacteria breeds on a toothbrush, it gets reintroduced to the mouth during your tooth brushing sessions, which can make them more harmful than beneficial. Pay attention to how your child is storing his or her toothbrush, as this can be an indicator of how much bacteria may be lingering on the bristles.
It is equally important to replace your child's toothbrush after they have been sick. We want to keep these germs away from the mouth as you are trying to get your child well.
Need more tips on pediatric dental care at home? We are happy to help. Call The Pediatric Dental Team today.
Posted on behalf of Pediatric Dental Team
2010 South Juniper Street
Philadelphia, PA 19148
Phone: 215-334-3490
Mon: 8:00AM – 4:30PM
Tues: 8:00AM – 4:30PM
Wed: 8:00AM – 4:30PM
Thu: 8:00AM – 4:30PM
Fri: 8:00AM – 1:00PM