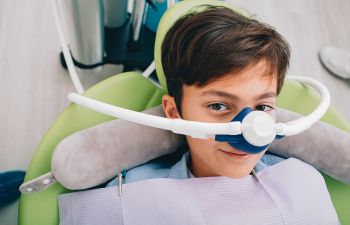 Does your child experience anxiety when facing dental treatments? Dental anxiety in kids is a common issue, often causing major battles at home before a dental appointment. Unfortunately, unhappy moments at the dentist as a young child can foster poor attendance at the dental office as an adult. At The Pediatric Dental Team, we don't want that to happen. Therefore, we strive to make dental care stress-free and comfortable for our young patients. Not only do we provide a relaxing atmosphere with kid-friendly amenities, but we also value the extra help some patients may need to calmly get through their time in the dental chair. To this end, our office offers sedation dentistry for kids.
What is Sedation Dentistry?
Sedation dentistry is often used for patients with dental anxiety or other obstacles that prevent them from staying calm during professional dental care. It allows patients to reach a deeper state of relaxation without being "put to sleep." In fact, your child can communicate with us freely while under mild to moderate sedation dentistry.
Some procedures are lengthy or more invasive. Sedation can help patients relax during these treatments, making the treatment time pass by quickly. Also, those with special needs like a sensitive gag reflex can benefit from sedation, making it easier for them and for our dental team.
Nitrous Oxide
For kids that need gentle and safe sedation, we offer nitrous oxide at our office. This "laughing gas" has been used for many decades to provide a calming effect during dental procedures. The effects create a sense of euphoria without affecting consciousness – pediatric patients are awake and aware during their treatment, but in a relaxed state. As a bonus, the effects of nitrous oxide dissipate quickly with a few breaths of fresh air. Old patients can drive home after their treatment and kids can immediately return to school or sports with no lasting sedation effects that will jeopardize their motor skills.
We want all our patients to feel at ease and comfortable when coming to us for their oral care. If your child has noticeable dental anxiety or other special needs that require sedation, talk to us about your options. The Pediatric Dental Team can even discuss hospital sedation if your child requires it. We go to great lengths to ensure a healthy smile doesn't come at the expense of your child's discomfort or distress.
Posted on behalf of Pediatric Dental Team
2010 South Juniper Street
Philadelphia, PA 19148
Phone: 215-334-3490
Mon: 8:00AM – 4:30PM
Tues: 8:00AM – 4:30PM
Wed: 8:00AM – 4:30PM
Thu: 8:00AM – 4:30PM
Fri: 8:00AM – 1:00PM