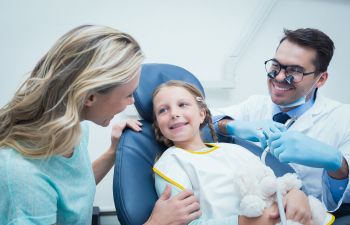 No child (or adult) wants to hear that they have a cavity when they visit the dentist. However, tooth decay does happen, and when it does, we don't want our patients to be afraid of the solution. At The Pediatric Dental Team, we go above and beyond to create a comfortable and stress-free experience for kids – even when it involves repairing a cavity.
Tooth decay is one of the most common dental health problems in pediatric patients.
It is caused when oral bacteria produce acids that eat away at teeth enamel, forming tiny holes called cavities. Proper brushing and flossing can help prevent cavities, but it is not uncommon for children to get them – especially when they are learning to brush on their own.
Fortunately, most cavities are considered a minor dental issue that can be easily treated with a dental filling. If ignored, a cavity can grow and cause damage to the tooth, severe pain and even infection. Therefore, it's best to treat a detected cavity in a timely manner. For many children, this can be an intimidating dental visit – but it doesn't have to be.
Reducing Anxiety During Cavity Treatment
Dental anxiety is a very real occurrence, especially in children. If you have a child who is nervous about visiting the dentist for a routine cleaning, then a subsequent appointment to repair a cavity can bring even more anxiety. There are specific things can do as your pediatric dentist to calm your child's fear surrounding cavity repair, including the following:
Carefully explain the process using simple, non-threatening language
Help them understand that getting a filling is quick and painless
Use dental sedation to help your child relax in the dental chair
Create a comfortable environment that feels like home
Use distractions such as toys, television and other tactics
Surround them with a caring and attentive staff to help them feel safe
At The Pediatric Dental Team, we understand what it takes to help your child feel at ease while they are in our office. We also value the importance of treating a cavity in a timely manner, so we will do everything we can to ensure that visit isn't something your child will fight. If your child is experiencing anxiety before an appointment, please let us know so that we can take extra measures to change the way they view their experience at our Philadelphia dental clinic.
Posted on behalf of Pediatric Dental Team
2010 South Juniper Street
Philadelphia, PA 19148
Phone: 215-334-3490
Mon: 8:00AM – 4:30PM
Tues: 8:00AM – 4:30PM
Wed: 8:00AM – 4:30PM
Thu: 8:00AM – 4:30PM
Fri: 8:00AM – 1:00PM