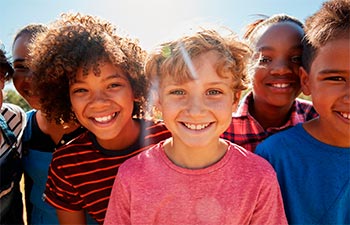 Do you dread telling your child that it's time to go to the dentist? It is common for children to be nervous, act out or be resistant when it comes to going to a doctor or dentist. Many of these anxieties stem from a fear of the unknown or fear of getting hurt. However, some children do suffer from dental anxiety, a very real condition that affects children as well as adults. Addressing your child's anxiety in these early years is very important so that they don't bring negative feelings towards dental care into their adulthood.
Instead of battling your child every time it is time for a dental visit, try these tactics to soothe their anxiety first.
Find the Right Dentist
First and foremost, choose a dentist who is equipped to handle pediatric dental anxiety. It is especially helpful if the dentist is friendly and gentle and the office environment is fun and inviting. Sedation dentistry options can also be a valuable tool.
Provide Information
Regardless of your age, knowing what to expect can significantly lower anxiety. Educate your child about what their dental visit will include, how long it will last and what they may see. Always use kid-friendly terms and avoid negative language.
Distract Them
A proven tactic to help a child get through any intimidating situation is to distract them. This may involve talking about a fun vacation while you are in the car on the way to the dental office or bringing an iPad for them to play while they wait in the lobby. Try to shift their focus away from their upcoming source of anxiety.
Give Control
Giving someone a sense of control over a situation can greatly reduce their anxiety, For your child, give them the opportunity to choose which stuffed animal they can bring with them or pick out a toy that they can show the dentist. You can also tell them to choose their favorite place to eat after the appointment.
Provide Reward
Offering positive reinforcement for brave behavior can help children with mild anxiety. Stickers, baseball cards or other small prizes can be an easy solution to a major problem. Try to avoid candy rewards to encourage optimal dental health.
Help Them Relax
For children with moderate to severe anxiety, it may be necessary to help them physically relax. In such cases, ask your pediatric dentist about sedation dentistry. Nitrous Oxide (laughing gas) is a safe form of oral conscious sedation that is used routinely in kids. Through a small nosepiece, your child will gently breathe in a colorless, sweet-smelling gas. This helps them to fully relax throughout the dental procedure while still being able to communicate with others if needed. This form of sedation wears off within minutes after the mask is removed and there are no lingering side effects.
At The Pediatric Dental Team, we understand how to address your child's fears and anxiety when it comes to their dental visit. We offer a variety of ways to help them feel at ease and have a fun, rewarding appointment. From our compassionate staff and kid-friendly amenities to our sedation dentistry services and comfort technology, your child can have the positive dental experience they deserve regardless of their level of fear or anxiety. Taking care of your smile should never be stressful!
Posted on behalf of Pediatric Dental Team
2010 South Juniper Street
Philadelphia, PA 19148
Phone: 215-334-3490
Mon: 8:00AM – 4:30PM
Tues: 8:00AM – 4:30PM
Wed: 8:00AM – 4:30PM
Thu: 8:00AM – 4:30PM
Fri: 8:00AM – 1:00PM