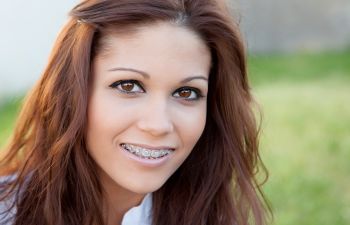 It may seem like torture for some kids to have to avoid hard candy, popcorn or chewing gum while undergoing orthodontic treatment. However, it is important to remind your child that their time in braces is only temporary, and the rules for eating are there for good reason.
At The Pediatric Dental Team, we know that wearing braces can sometimes be uncomfortable or embarrassing. Keep reminding yourself that those metal brackets, bands and wires are doing the remarkable job of straightening your teeth and creating a beautiful smile. To do this, these fixed orthodontic appliances must stay intact and in good condition. Unfortunately, there are certain foods that can compromise the integrity and condition of your braces, which can render them unable to do their job and extend your time in orthodontic treatment.
Foods To Avoid with Braces
Crunchy and sticky foods can loosen brackets and wires and other foods may put you at risk for the development of cavities and white spots underneath or between your brackets. After all, keeping your teeth clean and healthy while wearing braces isn't always easy.
Your orthodontist may ask you to stay away from the following foods during treatment:
Nuts
Potato chips
Popcorn
Crunchy veggies
Hard candies (such as jolly ranchers or lollipops)
Gum (Sugar-free gum is okay)
Sticky candies (like laffy-taffy or gummy bears)
Corn on the cob
Apples
Beef jerky
It should go without saying, but along with avoiding these hard or chewy foods, you should also be mindful of your oral habits. No pen chewing, nail biting, toothpicks or straw chewing!
Don't worry; there are plenty of foods that you CAN eat while undergoing braces treatment. You certainly don't have to stick to a completely soft-foods diet for the next several months. If you are craving something sweet, chocolate and ice-cream are perfectly safe for braces!
For more information on "good" and "bad" foods for braces, please call The Pediatric Dental Team. We want kids to enjoy life with braces while still being mindful of harmful habits that can delay their results.
Posted on behalf of Pediatric Dental Team
2010 South Juniper Street
Philadelphia, PA 19148
Phone: 215-334-3490
Mon: 8:00AM – 4:30PM
Tues: 8:00AM – 4:30PM
Wed: 8:00AM – 4:30PM
Thu: 8:00AM – 4:30PM
Fri: 8:00AM – 1:00PM