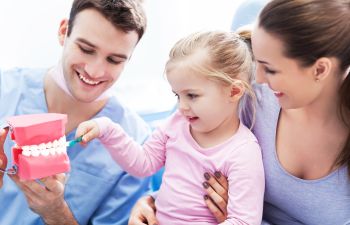 The Academy of American Pediatric Dentistry recommends that children visit the dentist for the first time by the age of 1, or within six months of getting their first tooth – whichever comes first. Does this seem too early? Without a full set of teeth, why is such an early dental visit necessary?
At The Pediatric Dental Team, we are happy to explain the advantages of bringing your one-year-old to our office. Keep in mind that this visit is typically brief and does not include the full services of an older-child checkup. However, first dental visits offer valuable benefits nonetheless.
While your baby may have just one tooth, that gummy smile still needs professional care and attention. In fact, there are several dental health issues that can develop at this early stage of life.
Keeping the Gums Healthy
Even if your child is not on solid foods yet, there can still be a risk of excessive oral bacteria accumulating along the gum line after feedings. It is important to gently clean your baby's gums with a damp washcloth to ensure they stay healthy and strong enough to anchor their future smile. Bacteria that is allowed to linger on the gums can transfer to new teeth that are erupting and cause early cavities.
Caring for the Mouth after Bumps and Falls
Your toddler may be learning to walk and gain coordination. Unfortunately, falls, bumps and other accidents are part of the process. In many cases, these traumas can involve the mouth. Just because there is no broken tooth to address, doesn't mean that the isn't any oral damage. It is a good idea to have an established relationship with a pediatric dentist in case the gums, cheeks or tooth roots need to be evaluated after a bad fall.
Creating a Familiar and Positive Association with Dental Care
Beyond actual dental-related concerns, dental visits at such an early age are the best way to create a positive association with dental care that will carry with them for a lifetime. At these initial visits, our pediatric dentists make it a priority to help young children feel safe, comfortable and happy in our office. In addition, first dental visits can allow parents to ask questions about what they should be doing at home in terms of oral care at different stages of their child's development.
To schedule your child's first dental visit in Philadelphia, call The Pediatric Dental Team today. We treat children from babies to teens with comprehensive dental care in a caring environment.
Posted on behalf of Pediatric Dental Team
2010 South Juniper Street
Philadelphia, PA 19148
Phone: 215-334-3490
Mon: 8:00AM – 4:30PM
Tues: 8:00AM – 4:30PM
Wed: 8:00AM – 4:30PM
Thu: 8:00AM – 4:30PM
Fri: 8:00AM – 1:00PM