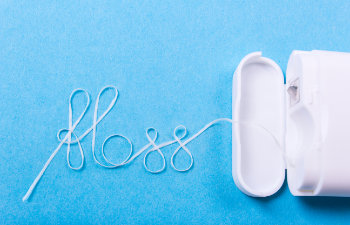 Regardless of your age, flossing should be an essential part of your dental hygiene routine. In fact, without flossing, you're leaving nearly 35% of your tooth's structure unclean. This gives bacteria, plaque and food debris a chance to accumulate, which leads to decay and gum disease.
The Challenges of Flossing
While flossing itself is not optional, you do have options for what you use to floss. This is important for young kids who are just learning how to floss and may not have the dexterity and coordination to do the job correctly.
When it comes to kids and flossing, don't hand over the task too quickly. As a general rule, a child should be able to tie his or her shoe or write in cursive before they can floss independently. That doesn't mean that when they do gain this responsibility, that it won't be difficult, especially if they are trying to use traditional flossing thread.
Many kids and some adults find traditional floss to be cumbersome, frustrating and difficult. After all, wrapping a tiny thread of floss around your fingers and flossing between each tight space between your teeth isn't an easy task for everyone. Whether it is a small child or an aging adult, here are some factors that can make flossing a challenge:
Lack of dexterity or coordination
Unsteady hands
Poor eyesight
Severe gag reflex
Short attention span
Easier Options in Flossing
Before you allow your child to just give up on the task of flossing due to its challenges, we suggest you consider some alternative options. If traditional floss is not working well in your household, you'll be happy to know that the dental industry has provided several other flossing tools that make the job more doable for young or impatient hands.
To encourage flossing for your child, we encourage parents to suggest one of the following:
Flavored floss (still cumbersome but more motivating than unflavored string)
Water Flosser (super easy and effective but messy, so put it in the shower or bath tub)
Floss Threader (a Y-Shaped tool that uses traditional floss but makes it easy to hold)
At The Pediatric Dental Team, we recognize the importance of helping parents find dental hygiene tools that work well for growing kids. If you often watch your child struggle with traditional dental floss, let us help before you dismiss the job entirely.
Posted on behalf of Pediatric Dental Team
2010 South Juniper Street
Philadelphia, PA 19148
Phone: 215-334-3490
Mon: 8:00AM – 4:30PM
Tues: 8:00AM – 4:30PM
Wed: 8:00AM – 4:30PM
Thu: 8:00AM – 4:30PM
Fri: 8:00AM – 1:00PM