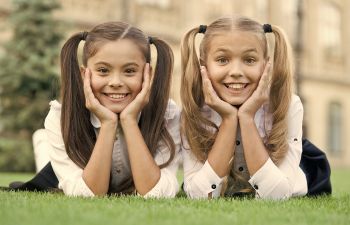 Going to a pediatric dentist is an easy decision when your child is young. As a toddler or elementary-aged child, they may need the kid-friendly distractions of cartoons playing on a screen above them or the bribe of getting a special prize at the end of their visit. Establishing dental care in a fun and non-threatening environment is important for your child's long-term relationship with oral health and their discipline to keep going to the dentist as an adult.
Like or not, however, kids do grow up. If your child's legs no longer fit on the pediatric dental chair, you may be wondering if it is time to transition to a general (or family) dentist. In general, pediatric dentists are trained to see their young patients until they are eighteen years old. However, most experts agree that there really is no age limit or rule about when to stop seeing your child. Instead, it's a decision that the parent and child come to naturally, and it may look different for each family.
While we are happy to advise you on this decision, most parents know when the time is right. Some kids start feeling embarrassed or "too old" for the pediatric dentist before they get out of middle school. Other patients may resist a change in dentist and want the comfort and security of their pediatric dental office for as long as possible.
A pediatric dentist is equipped to meet a child's dental care needs from 1 to 18 years old. At The Pediatric Dental Team, we are specifically trained to understand and predict the way mouths change and development during early growth. We are here for your child as they get their first teeth, lose their first teeth and have their permanent teeth come in. We make sure those permanent teeth are coming in straight and recommend orthodontics if they aren't. However, when it comes to wisdom teeth removal, restorative dentistry or cosmetic dental services, another dental practice may be more suited and equipped.
At The Pediatric Dental Team, we love watching your kids grow up. We also realize that there will come a time when they "grow out" of a pediatric dental practice. In the meantime, please let us know if there is anything we can do to help your teen or "tween" feel more at ease at our clinic.
Posted on behalf of Pediatric Dental Team
2010 South Juniper Street
Philadelphia, PA 19148
Phone: 215-334-3490
Mon: 8:00AM – 4:30PM
Tues: 8:00AM – 4:30PM
Wed: 8:00AM – 4:30PM
Thu: 8:00AM – 4:30PM
Fri: 8:00AM – 1:00PM