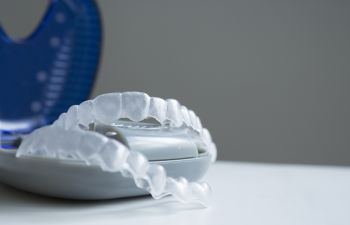 If you have a teenager in your house, you know all about "picking your battles." As they try to gain independence and become especially self-conscious about their appearance, it can be difficult to get them to be compliant or agreeable with orthodontic treatment. Most teens cringe as they envision themselves in metal brackets and wires through middle school or high school.
But what if you didn't have to fight the battle of orthodontics? What if your teen could achieve a straight and beautiful smile without wearing metal braces at all?
What is Invisalign Teen?
Invisalign Teen holds the power of traditional orthodontics but with a treatment design your teen won't rolls their eyes at. Instead of fixed brackets and wires, this innovative system relies on clear removable aligners that are customized to fit your teen's smile. Each aligner set is changed out every 2 weeks until the final alignment goals are achieved. Only a Certified Invisalign Provider can determine your child's candidacy, but Invisalign Teen can typically correct gapped teeth, crooked teeth, underbites, overbites and crossbites.
Reasons Why Teens Prefer Invisalign
There are many reasons why your teenager may ask about Invisalign as alternative to metal braces, including the following:
Barely Noticeable. A driving benefit of Invisalign is its nearly invisible design. Your teen can smile confidently in yearbook photos or attend prom without the worry of flashing metal braces.
Cleaner Mouth. With a busy schedule, late-night snacking and other common adolescent habits, it can be hard to keep a healthy teenage smile. If you have the obstacle of metal brackets and wires on your teeth, the challenge becomes even harder. With Invisalign, you can remove the aligners to brush and floss to ensure your smile straightening treatment isn't at the cost of stained teeth or puffy gums.
Dietary Freedom.  Once again, the ability to remove the orthodontic appliance is highly favored by our teen patients – especially when it comes to eating. Unlike traditional braces, there is no "off limits foods" when you have Invisalign. Simply take out your aligners to enjoy candy, popcorn and other popular treats.
Schedule Your Invisalign Teen Consult
Ready to learn more about straightening your teenager's smile with clear aligner therapy? We would love to talk with you. Call The Pediatric Dental Team today to book your Invisalign Teen consult in Philadelphia.
Posted on behalf of Pediatric Dental Team
2010 South Juniper Street
Philadelphia, PA 19148
Phone: 215-334-3490
Mon: 8:00AM – 4:30PM
Tues: 8:00AM – 4:30PM
Wed: 8:00AM – 4:30PM
Thu: 8:00AM – 4:30PM
Fri: 8:00AM – 1:00PM