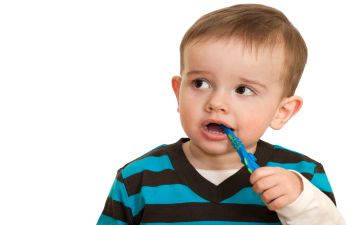 As parents, there are many times that we have to pick our battles. When it comes to brushing teeth, however, you'll need to stand your ground. The oral hygiene habits that your child develops at home can make a significant difference in the health of their smile as well as the health of their body as they grow.
To make brushing count, it is important to teach your child how to brush as well as how long to brush. The American Dental Association (ADA) recommends that people of all ages should brush for two minutes twice a day to keep their oral health in good condition. While two minutes out of your day is certainly brief, it can seem like eternity to a kid who is brushing his or her teeth.
If your child is falling short of two minutes when brushing, you are not alone. Here are some helpful tips for parents to encourage this task lasts the recommended amount of time each day:
#1 Download an App
Need to time your kid's tooth brushing session in a fun, engaging way? There's an app for that! If you are willing to let your child have a tablet or smartphone near the sink, consider downloading one of the many available tooth brushing apps for kids.
#2 Sing a Song
Toddler and young kids are easily distracted while they brush. Pick a favorite song that is only sung while they brush their teeth each night. Keep your tunes going for a full two minutes and end with a good rinse and spit!
#3 Set a Timer
If you have an older child or teenager, encourage them to set a timer for two minutes while they brush. Over time, they will get accustom to the required duration for brushing and can manage their routine more independently.
#4 Reward for Not Racing
Is your child motivated by a reward or prize? Give them a goal to work towards, such as brushing for the full two minutes, twice a day for an entire week. If they attain their goal, reward them with a special age-appropriate prize. Keep in mind that the money you'd spend on prizes will be far less than paying for a cavity or other dental repair.
#5 Model Proper Brushing Habits
Are you brushing for the full two minutes yourself? Your kids are watching. It is important to model good oral hygiene habits for your kids, including the way you brush, how often you brush and how long you brush!
For more tips on keeping your child's mouth healthy, call the Pediatric Dental Team. Fostering confident smiles in growing bodies is what we do best.
Posted on behalf of Pediatric Dental Team
2010 South Juniper Street
Philadelphia, PA 19148
Phone: 215-334-3490
Mon: 8:00AM – 4:30PM
Tues: 8:00AM – 4:30PM
Wed: 8:00AM – 4:30PM
Thu: 8:00AM – 4:30PM
Fri: 8:00AM – 1:00PM