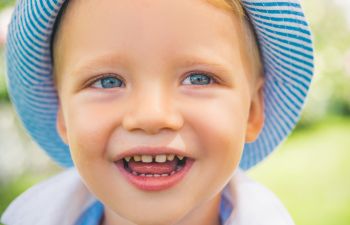 Young children are prone to mouth injuries. Whether you have a curious baby, a toddler learning to walk or a Little League baseball player, it is not uncommon to experience dental trauma. If the accident involves an avulsed, or knocked-out baby tooth, it can bring both alarm and confusion. Many parents are unsure about the severity of a losing a baby tooth too soon.
What Can Happen When a Baby Tooth Gets Knocked Out?
While it certainly depends on the specific child and the timing of tooth loss, an avulsed baby tooth can bring some unwanted risks and complications, such as the following:
Pain and Discomfort: While symptoms are typically temporary, losing a tooth that is not ready to come hurts. Pain, bleeding and swelling may be present at the site of a knocked-out baby tooth.
Difficulty Eating and Speaking: Losing a baby tooth can make it difficult for a child to eat or speak properly. This can impact their nutrition and overall development.
Misaligned Permanent Teeth: Did you know that if a baby tooth is lost prematurely, it can affect the alignment of permanent teeth? The surrounding teeth may shift or tilt, causing crowding or spacing issues that may require orthodontic treatment.
Delayed Permanent Tooth Eruption: Losing a baby tooth prematurely can also delay the eruption of permanent teeth. This can cause problems with bite development and jaw growth.
Call Your Emergency Pediatric Dentist in Philly
At The Pediatric Dental Team, we know accidents happen, especially when you have young children. To ensure that your child doesn't also face the consequences of a prematurely lost baby tooth, please make an appointment at our Philadelphia dental office. We are here to handle dental emergencies such as avulsed primary teeth.
Posted on behalf of Pediatric Dental Team
2010 South Juniper Street
Philadelphia, PA 19148
Phone: 215-334-3490
Mon: 8:00AM – 4:30PM
Tues: 8:00AM – 4:30PM
Wed: 8:00AM – 4:30PM
Thu: 8:00AM – 4:30PM
Fri: 8:00AM – 1:00PM