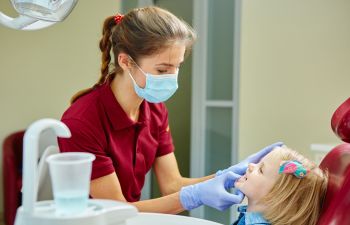 Accidents happen. It is one of many facts you've learned (or will learn) as a parent. Unfortunately, some of those accidents involve injuries to the mouth. These can be extra alarming and cause quite a bit of stress for both the parent and child. While you may be prepared to apply a Band-Aid to knee scrape or an ice pack to a head bump, are you as confident and ready to handle a dental emergency?
Here are two of the most common dental-related injuries in kids and how to handle these emergencies:
Chipped Front Tooth
If you have toddlers or early walkers, chipping a front tooth is quite common as they gain their steady feet. However, knowing when the chipped tooth needs attention can be confusing. Regardless of whether it is a baby tooth or not, it is important to check the tooth's stability and look for signs of nerve damage. A slight wiggle in a permanent tooth will typically resolve itself and tighten over time. If you see pink at the center of the tooth fracture or if your child is complaining of pain or bite sensitivity, the injury may have reached the nerve. Such injuries deserve prompt attention to a pediatric emergency dentist.
Knocked Out Tooth
This can be one of the most frightening dental emergencies, especially if the tooth is an adult tooth. There are immediate action steps to be aware of if your child unexpectantly loses a tooth during an injury. First, locate the tooth if possible and handle it by the crown (not the root). Keep the tooth stored in milk or water. Ideally, if your child is old enough, have them hold the tooth in its socket for the best chance of survival. Finally, get to your dentist as soon as you can. The American Association of Endodontists states a tooth has a high chance of survival and retention for life if it is re-implanted within five minutes or up to 60 minutes if soaking in milk or saline solution.
Trusted Pediatric Emergency Dental Care in Philadelphia
At The Pediatric Dental Team, we know that dental emergencies can be painful, messy and frightening. Try your best to remain calm as the parent and know that you have our skilled dental team on call for help. If you are unsure as to whether your child's dental injury deserves emergency treatment, always call our office to ask. Our Philadelphia dental clinic is your trusted resource for pediatric dental care – even when the unexpected happens.
Posted on behalf of Pediatric Dental Team
2010 South Juniper Street
Philadelphia, PA 19148
Phone: 215-334-3490
Mon: 8:00AM – 4:30PM
Tues: 8:00AM – 4:30PM
Wed: 8:00AM – 4:30PM
Thu: 8:00AM – 4:30PM
Fri: 8:00AM – 1:00PM