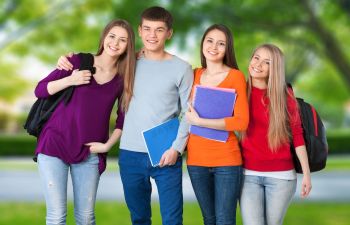 In the age of selfies and social media, teens are especially aware of their smile appearance. Once the baby teeth are lost, the adult teeth settle into place. Unfortunately, these permanent teeth don't always emerge in the ideal position, shape or size. You may hear your teen complain about the way their teeth look or watch them hide their smile in pictures. While it is not for everyone, there are some cosmetic dentistry options available for adolescent patients. After all, a confident smile can have a significant impact on self-esteem during the turbulent teenage years.
Here are the wide range of options that cosmetic dentistry offers in terms of your teen's smile enhancement:
Tooth-Colored Fillings/Bonding

Cavities are still common during adolescence, but the metal fillings used to repair them are a thing of the past. Now, we can use tooth-colored composite resin as a safer and more natural way to fix decay. Composite resin can also be used as a bonding material to close minor tooth gaps or fix a chipped tooth.

Braces and Invisalign

Orthodontics don't have to mean flashing a mouth of metal for all four years of high school. Instead, advanced options like Invisalign can straighten a teen's smile without compromising their yearbook photos or ability to eat popcorn at the movies. Invisalign is ideal for teenagers who want a straighter smile without the restrictions, embarrassment and inconvenience of traditional metal braces.

Veneers

Are your smile imperfections just in the front of your mouth? You may be a candidate for porcelain veneers. Veneers are an irreversible treatment and only used on healthy teeth. Getting porcelain veneers at a young age must be heavily considered by parent, patient and dentist.

Whitening

A whiter smile is a more attractive smile. There are several teeth whitening treatments that are safe for teens. We recommend letting your dentist guide you, as whitening kits that are overused or not customized for your teen's smile can result in gum irritation and even tooth damage.
At The Pediatric Dental Team, we recognize the importance of aesthetics when it comes to your teenager's smile. We are happy to explain your options in cosmetic dentistry if needed or desired.
Posted on behalf of Pediatric Dental Team
2010 South Juniper Street
Philadelphia, PA 19148
Phone: 215-334-3490
Mon: 8:00AM – 4:30PM
Tues: 8:00AM – 4:30PM
Wed: 8:00AM – 4:30PM
Thu: 8:00AM – 4:30PM
Fri: 8:00AM – 1:00PM