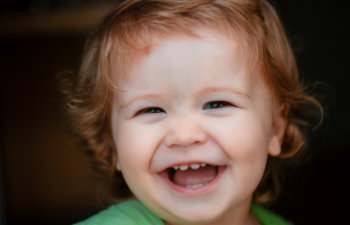 As parents, we eagerly await those adorable first smiles and gurgles from our little ones. But as your baby grows, another exciting milestone awaits: teething. Teething is a natural and necessary process that allows your child's teeth to emerge. However, it can also bring discomfort and challenges for both baby and parent. The Pediatric Dental Team is here to guide you through the five stages of teething. We are happy to offer the following insights and tips to help you navigate this important developmental phase.
Stage 1: The Arrival of Primary Teeth (0-6 months)
The first stage of teething occurs before you even notice any signs. During this stage, your baby's primary teeth are developing beneath the gums. Although you won't see any teeth yet, it's essential to establish good oral hygiene habits by gently wiping their gums with a clean, damp cloth after feeding.
Stage 2: The Eruption of the Front Teeth (6-12 months)
At around six months, you'll likely notice the first signs of teething as your baby's front teeth begin to emerge. This stage can be accompanied by increased drooling, irritability, and a strong urge to chew on objects. Provide your little one with safe teething toys or a chilled washcloth to soothe their gums. Regularly clean their emerging teeth with a soft toothbrush and water.
Stage 3: Cutting Incisors (6-16 months)
Between six to 16 months, your child's incisors, both upper and lower, will start to appear. This stage may cause increased discomfort and fussiness. Offer teething rings or cold, soft foods like yogurt or purees to alleviate their discomfort. Continue to brush their emerging teeth with a small amount of fluoride toothpaste.
Stage 4: Molars and Canines (12-24 months)
Around the first birthday, your child's molars and canines will begin to erupt. These teeth are larger and can cause more discomfort. Encourage healthy chewing habits by offering age-appropriate foods like sliced fruits or cooked vegetables. Maintain a consistent oral hygiene routine by brushing their teeth twice a day with a small, pea-sized amount of fluoride toothpaste.
Stage 5: The Arrival of Second Molars (24-36 months)
Between the ages of two and three, your child's second molars will typically emerge. By this stage, your little one may be more accustomed to teething and better able to handle the discomfort. Encourage proper brushing techniques and consider introducing flossing into their oral care routine. Regular dental check-ups with a pediatric dentist are crucial to monitor their oral health and address any concerns.
Teething is a natural process that each child experiences differently. By understanding the five stages of teething and implementing appropriate strategies, you can help your child navigate this developmental milestone with greater ease. Remember to provide soothing aids, maintain good oral hygiene practices, and seek guidance from our trusted pediatric dentist for any concerns.
A Dentist for Your Teeth Baby in Philadelphia
At The Pediatric Dental Team, we are committed to supporting your child's oral health journey. If you have questions or would like further guidance on teething or pediatric dental care, contact our team to schedule an appointment. Together, we can ensure your child's smile remains bright and healthy throughout their early years.
Posted on behalf of Pediatric Dental Team
2010 South Juniper Street
Philadelphia, PA 19148
Phone: 215-334-3490
Mon: 8:00AM – 4:30PM
Tues: 8:00AM – 4:30PM
Wed: 8:00AM – 4:30PM
Thu: 8:00AM – 4:30PM
Fri: 8:00AM – 1:00PM