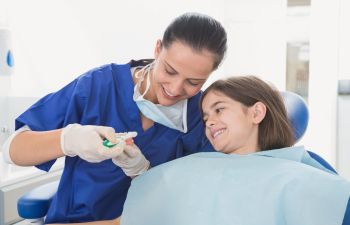 As parents, we will do anything to protect our children. When it comes to their smile, there are some very simple things we can do to keep their teeth healthy and strong. Beyond brushing, flossing and seeing a dentist twice a year, children can also benefit from a valued treatment in preventative dentistry called sealants. Sealants may be the extra step that your child needs to avoid cavities on those newly emerged permanent teeth.
What is a Dental Sealant?
A dental sealant is a thin plastic coating that a dentist paints on the chewing surfaces of the molar teeth. After quickly drying, sealants provide a protective barrier against the food debris, acids and plaque that easily accumulate in the pits and grooves of these back teeth. These are areas of a smile that are difficult for a toothbrush to clean, especially in the hands of a child.
Benefits of Sealants
The application of dental sealants is simple, fast and painless. While sealants won't last forever, they offer profound preventative benefits for your growing child until they are past those "cavity prone" years. Here's a quick rundown of the perks of sealants for children:
Protect the grooves of the teeth from food particles
Process only takes minutes
Protection of teeth begins immediately after application
Durable for everyday dental function
Last for several years before reapplication
Affordable means to protect against tooth decay
White, clear in color – blend in with natural teeth
Can be easily replaced if chips or wear develop
At Pediatric Dental Team, we often recommend dental sealants for children when their permanent molars erupt. Call today to learn more about how you can give your child's smile the extra protection it needs and deserves!
Posted on behalf of Pediatric Dental Team
2010 South Juniper Street
Philadelphia, PA 19148
Phone: 215-334-3490
Mon: 8:00AM – 4:30PM
Tues: 8:00AM – 4:30PM
Wed: 8:00AM – 4:30PM
Thu: 8:00AM – 4:30PM
Fri: 8:00AM – 1:00PM