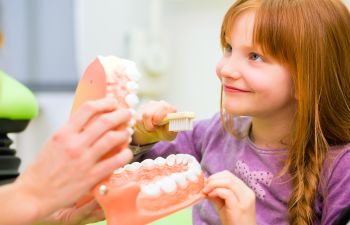 Did you know that the outer layer of your teeth, called enamel, is the strongest substance in your entire body? Enamel can withstand excessive pressures and forces as you chew your food. Most importantly, this layer protects the inner, more sensitive layers of the tooth and nerves. Unfortunately, tooth enamel can weaken or become damaged. In kids, weak tooth enamel can even be something they were born with! A pediatric dentist can diagnose weak tooth enamel in your child and recommend a solution.
Mottled Enamel
According to the American Academy of Pediatric Dentistry (AAPD), there are special cells called ameloblasts which are responsible for the formation of tooth enamel. When these ameloblasts become damaged or fail to fully mature, the enamel development is compromised. In result, the baby teeth and permanent teeth can emerge with weak, missing or improperly formed enamel. This is known as mottled enamel, and there is more than one cause for this condition:
A developmental condition
Unsupervised eating of fluoride toothpaste or rinse
Excessive fluoridation in the water
A mother's diet during pregnancy
History of high fevers/febrile seizures
Enamel Hypoplasia and Hypomineralization
In addition to mottled enamel, children can also suffer from teeth that have a thin or deficient enamel. This is a disorder called enamel hypoplasia. You may notice enamel hypoplasia as a pit or hole in the tooth. Hypomineralization is yet another defect of pediatric tooth enamel, and it involves the formation of soft enamel that is easily damaged. Excessive exposure to fluoride is often a culprit to hypomineralization, which is often seen in teeth from birth to age 6.
How a Pediatric Dentist Can Help Weak Teeth
Regardless of what type of enamel defect your child has, a pediatric dentist can help. At The Pediatric Dental Team, we realize the risk of weak enamel for growing smile. Depending on the severity, our dentists can offer sealants, bonding or crowns as an effective means to strengthen the teeth. These measures can help your child avoid dental issues associated with weak enamel, such as sensitivity, decay and trauma.
To learn more about treating weak enamel in kids, call The Pediatric Dental Team in Philadelphia.
Posted on behalf of Pediatric Dental Team
2010 South Juniper Street
Philadelphia, PA 19148
Phone: 215-334-3490
Mon: 8:00AM – 4:30PM
Tues: 8:00AM – 4:30PM
Wed: 8:00AM – 4:30PM
Thu: 8:00AM – 4:30PM
Fri: 8:00AM – 1:00PM