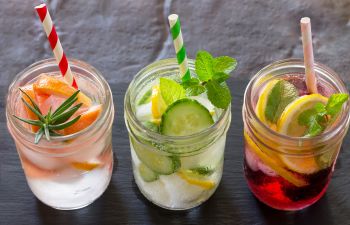 Kids get thirsty! Compared to adults, children have more active bodies with smaller water reserves, which means they need more frequent hydration. When your child is thirsty, what liquid are you giving them to rehydrate? If it is not water, you should rethink that drink. There are many common beverages that can be harmful to your child's oral health over time.
The Problem with Sports Drinks and Juices
Far too many parents rely on flavored sports drinks and fruit juices to satisfy their thirsty kids. While these beverages contain good nutrients for your child's body, they may not be as favorable to their teeth. Sports drinks and fruit juices are known for their high amounts of sugars and acids, which can wreak havoc on the teeth. In fact, these are two of the most harmful substances for the teeth in terms of erosion and decay.
According to a study in General Dentistry, sports drinks contain so much acid that they begin destroying teeth after only five days of consistent use. When sugars and acids combine, they create a toxic bath for your teeth. Although your teeth are made of the strongest substance in your entire body, acids can erode the outer tooth layer (enamel) and leave them more susceptible to damage and decay. Keep in mind that once tooth enamel is gone, it won't grow back. Therefore, if you want to quench your child's thirst and protect their smile at the same time, consider plain water instead of sports drinks or fruit juices.
Schedule a Pediatric Dental Checkup
Concerned that your child has already suffered dental issues due to high consumption of sports drinks? Book a visit with us. At Pediatric Dental Team, we consider it a privilege to protect and restore your child's growing smile. Don't dismiss the importance of drinking water as the most tooth-friendly and body-friendly way to hydrate!
Posted on behalf of Pediatric Dental Team
2010 South Juniper Street
Philadelphia, PA 19148
Phone: 215-334-3490
Mon: 8:00AM – 4:30PM
Tues: 8:00AM – 4:30PM
Wed: 8:00AM – 4:30PM
Thu: 8:00AM – 4:30PM
Fri: 8:00AM – 1:00PM