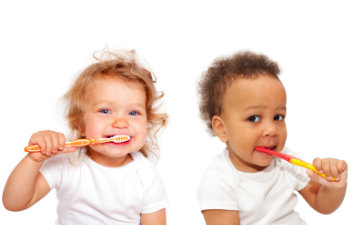 All kids are subject to dental problems. Toddlers, however, can suffer some of the oral health issues associated with babies as well as those that are common in older kids. After all, a toddler may still be getting new teeth and drinking out of a sippy cup, but they may also become more physically active and prefer more "big kid" foods and drinks (that often contain more processed sugars and carbs).
At The Pediatric Dental Team, we are equipped to protect your child's smile at every stage – including those toddler years of emerging independence and fast growth. Toddlers can experience a range of dental issues, some of which are quite common. Here are a few of the most common dental issues that toddlers may encounter:
Cavities
Tooth decay, also known as dental caries or cavities, is a prevalent dental issue among toddlers. It can occur when bacteria in the mouth combine with sugars from food and produce acids that attack tooth enamel. Poor oral hygiene, frequent consumption of sugary foods and drinks, and bottle or sippy cup use at bedtime are common risk factors for tooth decay in toddlers.
Baby Bottle Tooth Decay
Baby bottle tooth decay specifically refers to tooth decay that affects the front teeth of infants and toddlers. It typically occurs when a baby's teeth are frequently exposed to sugary liquids like milk, formula, fruit juice, or sweetened beverages from a bottle or sippy cup. The sugars in these liquids can contribute to tooth decay if proper oral hygiene practices are not followed.
Teething Problems
Teething is a normal process in which a toddler's primary (baby) teeth start to emerge through the gums. It can cause discomfort, irritability, drooling, and a desire to bite or chew on objects. Some toddlers may experience more significant teething symptoms, such as swollen gums, sleep disturbances, and mild fever.
Thumb Sucking and Pacifier Use
Many toddlers develop a habit of thumb sucking or pacifier use. While these habits are common and usually harmless at a young age, prolonged or intense sucking can affect the alignment of teeth and the development of the jaws, leading to orthodontic issues in the future.
Injury or Trauma
Toddlers are often active and prone to accidents. Falls or blows to the mouth can result in dental injuries such as chipped or broken teeth, dislodged teeth, or injuries to the lips, gums, or tongue. Immediate dental attention should be sought in the event of a dental injury.
Tongue Thrusting
Some toddlers exhibit a habit of thrusting their tongues forward against the front teeth or between the teeth during swallowing or at rest. This repetitive movement can affect the positioning of the teeth and may contribute to orthodontic issues.
How can you help your toddler avoid these dental problems? Regular dental check-ups, proper oral hygiene practices, a balanced diet, and guidance from a qualified pediatric dentist can help prevent and address these common dental issues in toddlers. At The Pediatric Dental Team, we believe that early intervention is critical for a healthy smile in children. Call our Philadelphia dental practice today to schedule your toddler dental appointment. We promise to make your visit comfortable and positive!
Posted on behalf of Pediatric Dental Team
2010 South Juniper Street
Philadelphia, PA 19148
Phone: 215-334-3490
Mon: 8:00AM – 4:30PM
Tues: 8:00AM – 4:30PM
Wed: 8:00AM – 4:30PM
Thu: 8:00AM – 4:30PM
Fri: 8:00AM – 1:00PM