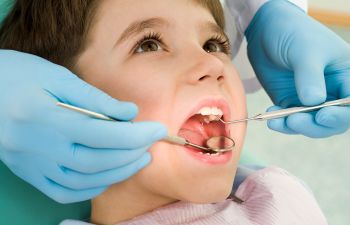 Not all diagnosed cavities are the same. Like many other health conditions, tooth decay is progressive and occurs in stages. When it comes to cavities, the first stage is easily reversible and the final stage can be threatening to the health of your entire body. Here's a closer look at how a cavity develops and what happens over time if it is left untreated.
Stage 1: Demineralization or "White Spots"
At the earliest stage, the sugars and acids in your child's mouth will attack the tooth enamel. This can appear as tiny white spots just under the surface of this outer tooth layer. While it is not always easy to detect this initial stage of development, a cavity can often be reversed or stopped before it needs a filling through better dental hygiene and fluoride treatment.
Stage 2: Enamel Decay
While it may surprise you, a cavity starts underneath the enamel surface. During the second stage of development, however, a tiny hole bursts through the surface and presents itself as decay. While you can't reverse this stage of a cavity, it can easily be repaired with a simple dental filling.
Stage 3: Invasion of Dentin
Dentin is the second layer of your tooth, just behind the enamel. During stage 3, the decay will grow and penetrate deeper into the tooth to reach the soft dentin layer. This is known as a severe cavity that may need more advanced treatment than a simple dental filling.
Stage 4: Decayed Pulp and Tooth Pain
This is a stage of decay that we hope our patients never experience. When the bacteria and decay reaches the tooth's inner pulp, the infection has reached the nerves of the tooth, and it can be very painful. A root canal is the best course of action to restore a tooth that is this badly decayed.
Stage 5: Abscess and Distress
Yes, it can get worse. If not treated when the decay has reached the pulp, it can progress to the underlying tissue and bone that is supporting the tooth. At this stage, patients may suffer intense pain and swelling that needs immediate treatment to avoid overall health threats.
The best way to avoid a cavity is prevention. Preventative dentistry begins with good brushing and flossing habits at home but must also include regular visits to a dentist. At The Pediatric Dental Team, we proudly use advanced digital imaging to detect cavities at their earliest and most treatable stages. If possible, we will take measures to reverse early signs of decay. Call our Philadelphia office today.
Posted on behalf of Pediatric Dental Team
2010 South Juniper Street
Philadelphia, PA 19148
Phone: 215-334-3490
Mon: 8:00AM – 4:30PM
Tues: 8:00AM – 4:30PM
Wed: 8:00AM – 4:30PM
Thu: 8:00AM – 4:30PM
Fri: 8:00AM – 1:00PM