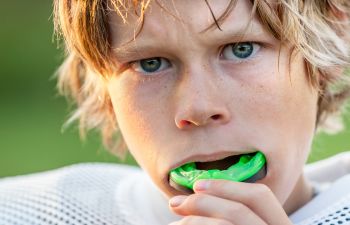 Did you know that fifty percent of all children and teens will suffer at least one traumatic injury to a tooth by the time they graduate high school? Whether you have a pee-wee football player or a varsity soccer star, it is important to protect your child's smile during sports. Just like adults, mouth injuries in kids can involve serious damage to the teeth, gums, cheek and jaw.
The good news is that there is an easy way to prevent mouth injuries during active play. Athletes are 60 times less likely to suffer harm to the teeth when wearing a mouthguard. Contrary to popular opinion, mouthguards are not reserved for football player and boxers. In fact, children can benefit from mouthguards when playing any type of contact sport (football, hockey), non-contact sports (softball, baseball, soccer) or recreational activity (skateboarding, mountain biking). Not only can mouthguards shield your child from broken teeth and lip lacerations, but they are also reported to help prevent youth concussions!
The Benefits of a Custom Athletic Mouthguard
There are many types of mouthguards available, including boil-and-bite guards and stock guards that you can purchase at your local sporting goods store. While these are certainly better than not wearing a mouthguard at all, there is another superior solution when it comes to protecting your child's smile.
A custom athletic mouthguard from your dentist is fabricated to fit precisely over each crevice and groove of their teeth, which offers the following valued advantages:
More comfortable fit
Less likely to come out of place or fall out
Better durability, higher-quality materials
Able to breathe, speak and sip water while wearing
While custom mouthguards come at a higher upfront price tag than those you can buy at the store. They offer a level of protection and comfort that far outweighs the cost. A well-fitted mouthguard is one that your child will keep in place during sports and one that can save you from costly dental bills if a sudden blow to the mouth should occur.
Contact The Pediatric Dental Team today to learn more about how to get a custom athletic mouthguard for your child before the season starts.
Posted on behalf of Pediatric Dental Team
2010 South Juniper Street
Philadelphia, PA 19148
Phone: 215-334-3490
Mon: 8:00AM – 4:30PM
Tues: 8:00AM – 4:30PM
Wed: 8:00AM – 4:30PM
Thu: 8:00AM – 4:30PM
Fri: 8:00AM – 1:00PM